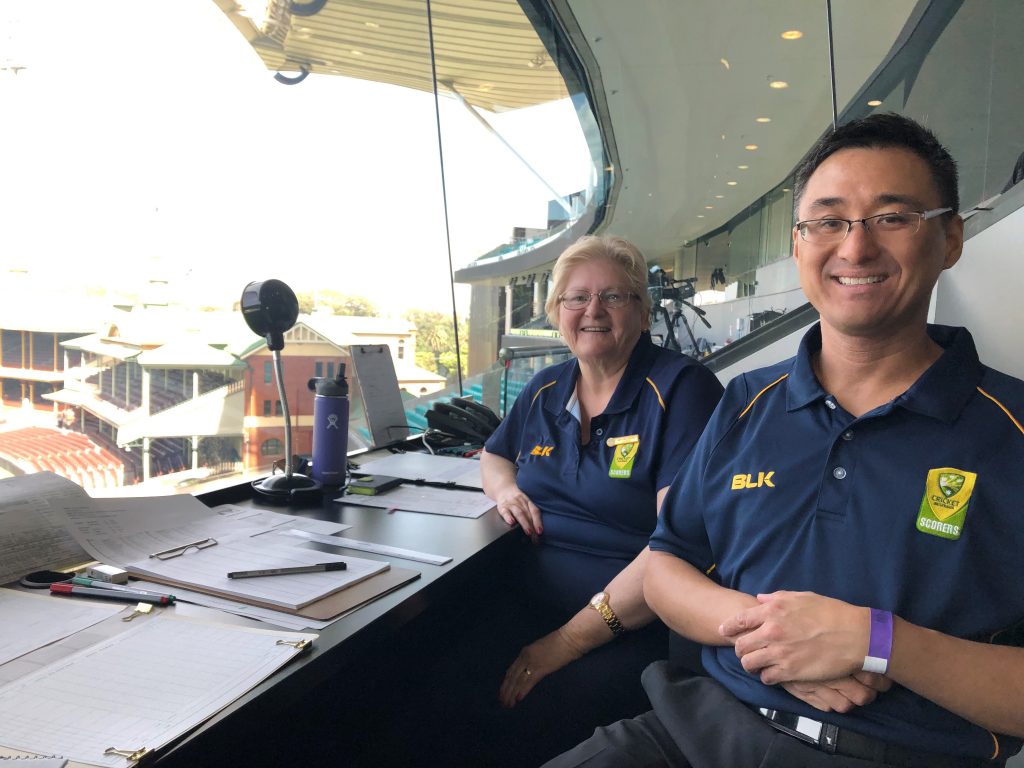 Scoring is an important role in cricket, and a great way for non-playing members of the cricket community to be involved in the game.
NSWCUSA conducts regular scorer training courses at the Cricket NSW office at Sydney Olympic Park, usually taking place in September or October, with additional courses as required by demand.
Courses can also be facilitated for clubs or associations, with a minimum requirement of ten people.
The three-hour course covers both theoretical and practical components of scoring, right from dot ball to the more advanced scoring technique of linear scoring. The scorer course is valued at $20 per participant.
The course is based on the Laws of Cricket and trains paper scoring. We can provide a workshop for electronic scoring, but do not provide tuition for any particular system or program.
Each course is facilitated by Cricket Australia accredited scorers with representative scoring experience varying from WBBL to Test matches.
To register your interest in attending or arranging an upcoming course, please use the contact form at the bottom of the page or contact Bede Sajowitz via bede.sajowitz@cricketnsw.com.au or on 0427 947 000.
Getting Started
Whilst we recommend you attend one of our training courses, there is no essential accreditation to become a scorer, you can commence scoring at any time and enjoy the benefits of being a part of a team and club.
If you would like assistance to find a club in your area, contact us and we can help find you somewhere to score.  If you reside in metropolitan Sydney, we will endeavour to find you a club playing in the NSW Premier Cricket competition but be aware there is considerable travel and commitment required to be involved at this level.  The decision is entirely yours as to what level you score at, you are just as important to the game whether you're scoring for your local club in the district competition or in representative cricket.

Accreditation
There are currently two levels of scorer accreditation offered by NSWCUSA. The first is a successful completion of the initial scorer assessment, which entitles you to apply for membership of NSWCUSA. The next level of accreditation is available to NSWCUSA members who successfully complete an advanced assessment, which is an essential accreditation for those looking to score representatively.
The initial assessment is a take-home paper, which can be sent out upon request to be completed in your own time and returned for marking and processing. It is mostly multiple choice covering the Laws and Laws and technical scenarios and that typically require a broad general scoring knowledge.
The advanced assessment requires you to accurately score the second innings of a 15-over match on a standard scoresheet and a linear scoresheet. The 'match' contains a number of standard scenarios with an unusual moment to test your knowledge of the Laws and scoring.
Representative Pathway
The representative scoring pathway is the same as it is for players or umpires. There are set criteria to meet and you must have the appropriate knowledge, scoring experience, competency and be able to prove yourself at each level of the game to progress.  It is a long and sometimes challenging road, but it is an enriching experience.
The first step is to attain your scoring accreditation and get established as a scorer for a club. You must prove your competency over a period of time by scoring at First or Second Grade level in NSW Premier Cricket (or equivalent) as well as serving an 'apprenticeship' by scoring minor CNSW representative matches as appointed.
Contact the Scorers' Committee