2019-20 State Umpire Panel Named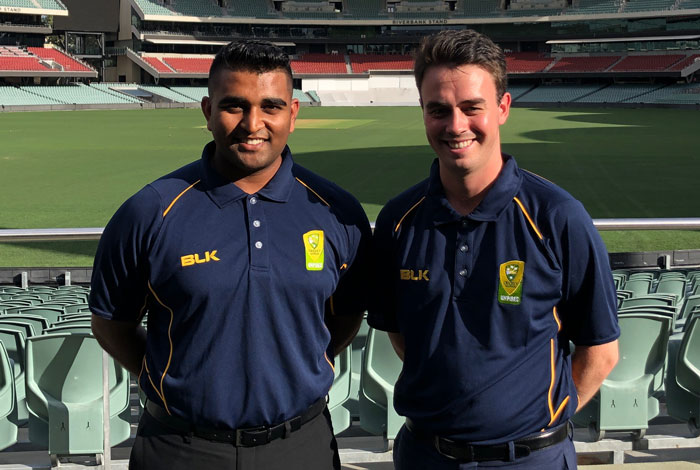 Sharad Patel and Bede Sajowitz have been promoted to the NSW State Umpire Panel for the first time, while Keiran Knight returns to the Panel in 2019-20.
Patel, Sajowitz and Knight join Berend du Plessis, Andrew Hamilton, Roberto Howard and Marc Nickl on the seven-umpire panel, who can expect to be appointed to Women's Big Bash League, Women's National Cricket League or Cricket Australia National Championships tournaments.
Howard and Patel will officiate at the Male Under 17 National Championships next season, while Berend du Plessis has been appointed to the Male Under 19 National Championships.
Knight replaces Ryan Nelson on the State Umpire Panel. Nelson steps down due to family and work commitments.
Troy Penman departs the Panel having been elevated to the Cricket Australia Supplementary Umpire Panel.
The better performing umpires on the State Umpire Panel may be appointed by Cricket Australia to the national Second XI competition, referred to as the Toyota Futures League.
Patel, 25, was awarded the highest honour for any member of the NSW Cricket Umpires' and Scorers' Association in 2018 when he won the George Borwick Memorial Award for the first time.
Sajowitz, 22, last season was the joint winner of the NSW Premier Cricket Panel 2 Award with Andrew Yarad.
The State Umpire Panel was selected by NSWCUSA Executive Officer and State Umpiring Manager, Darren Goodger, in consultation with Graham Reed, member of the NSW Umpire Coaching Panel.
Goodger said both Patel and Sajowitz earned their promotion to the Panel through excellent performances in NSW Premier Cricket and a great attitude.
"The State Umpire Panel is about identifying prospective talent and providing them with opportunity to be in the system for the long term. It's an investment in both," said Goodger.
"They're on the Pathway. By coming into the State Panel, you're on the representative umpiring Pathway."
Likewise, Goodger commended Knight and said it was great to have him back on the Panel.
"He's a very experienced former player. He represented the NSW second XI and NSW Country, he just brings a deep understanding of and genuine feel for the game.
"Keiran had a particularly strong season in Premier Cricket (last season) and deserves his opportunity to return."
Goodger thanked Nelson for his time in Premier Cricket and at the representative level.
"Ryan will be missed by his colleagues. He is a true team player.
"He has contributed to the NSWCUSA Exam Committee and with his vast experience as a player has been a wonderful sounding board for many of his umpiring colleagues.
"He is loyal and dedicated to all he undertakes. I hope to see him return in the future to umpiring at First Grade level and beyond."
NSW State Umpire Panel 2019-20:
Berend du Plessis
Andrew Hamilton
Roberto Howard
Keiran Knight
Marc Nickl
Sharad Patel
Bede Sajowitz