Tucker and Wilson Bound for ICC Men's Cricket World Cup 2019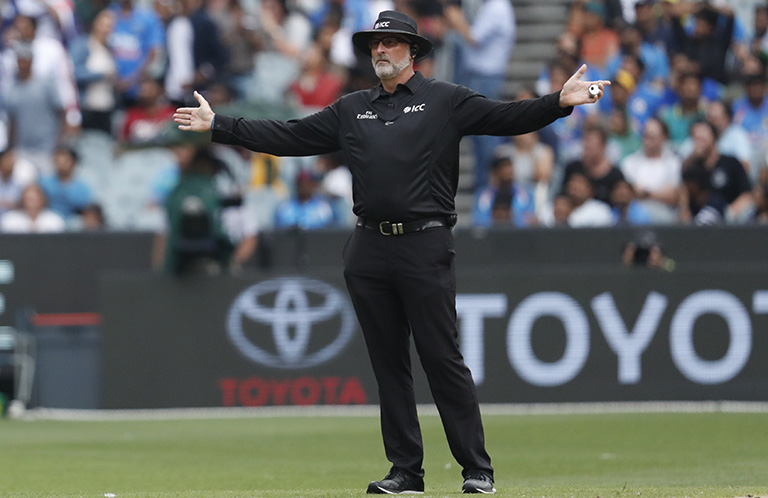 As the 2019 ICC World Cup fast approaches, the ICC has recently confirmed the match officials that will oversee the tournament – featuring on that list are NSWCUSA members Rod Tucker and Paul Wilson.
Tucker and Wilson are two of the 16 umpires who have been appointed to the group stage of the tournament, to be played across eleven grounds throughout England and Wales.
Whilst the tournament will be Paul Wilson's first Men's World Cup it will be his third World Cup across all levels, having officiated in the 2017 Women's and the 2018 U19 events.
Currently a member of the ICC's International Panel of Umpires and Cricket Australia's National Umpire Panel, the tournament will see Wilson add to his current tally of 23 One Day International matches.
Wilson's appointment to the tournament caps off a remarkable season for Cricket Australia's Umpire of the Year in which he stood in ODIs in India, New Zealand, the West Indies and here in Australia. He was also on field in the JLT Sheffield Shield Final and the JLT One-Day Cup Final, which were both played at Melbourne's CitiPower Centre.
Rod Tucker is a well-established member of the ICC's Elite Panel of Umpires, the group from which most of the 16 appointed umpires have been drawn from.
At his third Men's World Cup, Tucker will be adding to the 78 ODIs that he has stood in since he made his debut in the format at Hobart in January 2009.
His most recent appointments in England came in the 2018 northern summer as he stood in the Lord's and Headingley fixtures of the three Test match series played between England and Pakistan.
Tucker (six) and Wilson (five) will be on field in ten matches between them in the round robin stage of this year's tournament.
This includes one match where they will be standing together; the South Africa v West Indies fixture to be played on 10 June at Southampton's Hampshire Bowl.
Also representing Australia at the 48-match tournament, which begins on Thursday 30 May, will be ICC Elite Panel umpires Bruce Oxenford and Paul Reiffel with David Boon also on duty as a Match Referee.
Match Officials at the ICC Men's Cricket World Cup 2019:
Umpires: Aleem Dar, Kumar Dharmasena, Marais Erasmus, Chris Gaffaney, Michael Gough, Ian Gould, Richard Illingworth, Richard Kettleborough, Nigel Llong, Bruce Oxenford, Ruchira Palliyaguruge, Sundaram Ravi, Paul Reiffel, Rod Tucker, Joel Wilson and Paul Wilson.
Match Referees: David Boon, Chris Broad, Jeff Crowe, Ranjan Madugalle, Andy Pycroft and Richie Richardson.