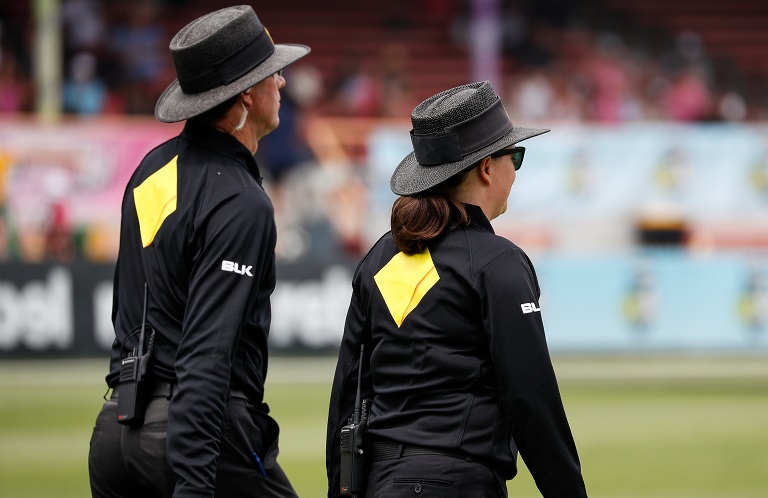 The seventh season of WBBL begins tonight in Hobart with the Sydney Sixers and the Melbourne Stars contesting the season-opener at Blundstone Arena.
Five NSWCUSA members are in Tasmania for the initial phase of the competition, as part of a group of ten umpires set to be involved in the first 20 matches.
NSW State Panel member Roberto Howard and Supplementary Panel umpires Simon Lightbody and Claire Polosak are the three NSW-based umpires to be in action in Hobart.
They're joined by fellow members in ACT-based Drew Crozier and Tasmanian-based Muhammad Qureshi who retain their membership despite umpiring interstate.
Howard will be on-field in the tournament opener, with Supplementary Panel umpire David Taylor to be his partner on-field with Lightbody as Third Umpire.
Polosak has flown to Hobart directly from Queensland where she was involved in the recently completed multi-format women's international series between Australia and India, with the Saturday afternoon fixture between the Melbourne Renegades and the Hobart Hurricanes to be the first involvement in WBBL|07 for both Crozier and Polosak.
Lightbody's first on-field appointment will the second match of Saturday's double-header at Blundstone Arena with the Sydney Thunder and Adelaide Strikers beginning their campaigns – he will be joined in the middle by Victorian State Panel umpire Mattis van Eck.
Qureshi takes to the field on Wednesday afternoon at Blundstone Arena as the Renegades play the Strikers in the first match of the double-header.
Appointments have been confirmed for the first 20 matches, Crozier and Howard have been appointed to the middle for six matches, Lightbody five (three as Third Umpire) and both Qureshi and Polosak four matches each (with Polosak to be Third Umpire in one match).
The full panel of Umpires is as follows:
Simon Burns (TAS)
Shawn Craig (VIC)
Drew Crozier (ACT)
Roberto Howard (NSW)
Simon Lightbody (NSW)
Jerry Matibiri (TAS)
Claire Polosak (NSW)
Muhammad Qureshi (TAS)
David Taylor (QLD)
Mattis van Eck (VIC)
They will be supported by three Match Referees:
Steve Bernard (NSW)
Kent Hannam (VIC)
David Johnston (TAS)
Photo: Tony Wilds and Eloise Sheridan take to the field ahead of a match during WBBL|06 // Cricket Australia